Fue hair transplants in Lahore Pakistan are performed for both male and female patients.
Follicular unit

extraction (FUE) is an innovative hair transplant technique that involves plucking individual follicles from one part of the skin and implanting them to an area of less hair volume or density. Traditional "Manual Punch" has now been replaced by advanced "Micro-motors" which extracts follicles from donor sites under local anaesthesia via fine person-specific needles "Micro-punches". The extracted follicles are then grafted to desired regions keeping in mind the natural hair direction and growth angle at that site. This technique has substituted the conventional FUT or Follicular Unit Strip Surgery (FUSS) in which a strip of skin from back and sides of head is removed and after dissection individual follicle prepared for the bald area. The updated version is known as
Follicular unit extraction
Technique ; both of these only differ in the apparatus used during the procedure while the overall procedure of both FUE and FIT is the same.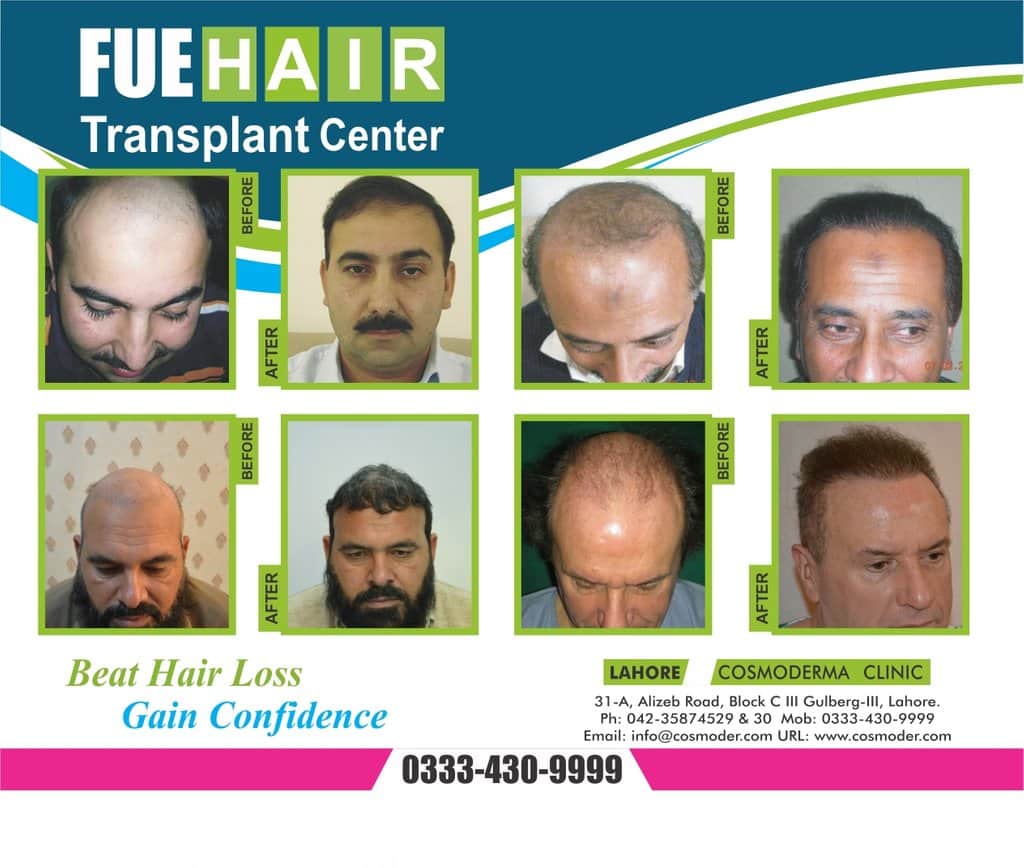 Best FUE hair transplants Lahore Pakistan
The steps involved in FUE hair transplant in Lahore Pakistan at our clinic are as follows:
Shaving the site.

Removing follicles from the donor site using a micro-punch tool.

Inserting these extracted follicles into the recipient site by making tiny incisions.

Cleaning and bandaging the area.

Post-operative follow-ups and in some cases you may need a follow-up transplant.
How does FUE transplant work?
As a person advances in his/her age, the three-phase cycle of hair growth and re-growth shortens i.e. the re-growth capacity of follicles continue to diminish until a time comes when the follicles will no longer re-grow.
This technique replaces old follicles with new ones which still can grow hair. After transplantation, the follicles are provided with the normal supply of oxygen and nutrients via the surrounding blood vessels which causes their normal-like growth.
Evaluating the "Cost"
FUE hair transplant cost in Lahore Pakistan varies according to the following factors:
Quantity (how much graft needs to be transplanted).

Availability of surgeons (how many surgeons are there in your area who are well qualified and certified in this technique).

The type of transplant technique.

How demanding your surgeon is (the fee of the procedure depends on the person who is carrying it out i.e. how much will he cost?)

Also keep in mind that in addition to your surgeon's fee, you would have to pay for the prescribed medicines after the procedure.

Your location. For example, the procedure is cheapest in countries like Pakistan, Turkey, Poland, etc.

On average this transplant costs $2000 to $3000 per session.
FUE Vs FUT Technique selection
Here we list the merits and demerits of both FUE and FUT transplant, one can choose either according to his/her demands:
Patients avoid FUT because it leads to a donor area linear scar and pain. FUE is preferred as there is minimal discomfort. It also doesn't leave scars

like FUT.

FUE results in quick healing and causes less pain. Less chances of infection as no stitches and incision is involved.

However, FUT is a proven and cost-effective procedure.

FUE is recommended for patients with shorter hairstyles and patients who need a less invasive procedure. It is an outpatient procedure so the patient can go home after transplant and there is minimal interruption in daily tasks. Transplanted hair typically begins to grow back in about 3-4 months and 10-80% of their growing back is expected.
Here were the facts about both the procedures but still you can't assess by yourself that which one of the above-mentioned procedure would be best for you or would suit you as every human being demonstrates different metabolism and react to things differently so it is recommended to consult a well-qualified transplant surgeon and discuss with him about it in details.
Indications
You can have an FUE transplant if you are suffering from thinning of your hair or balding but still have enough healthy and thick ones that can be grafted/transplanted to the target area (site of thinning or balding). If you don't have so, then you are ineligible for this technique.
Effectiveness
FUE transplant has a remarkable success rate of about (95-100%). However, the expected level of success depends on two main factors:
How well the transplantation has been carried out i.e. how much trained your surgeon and health-care staff is and how efficiently they performed the transplantation.

How much do you take care of your grafted site after transplantation and how much do you follow your surgeon's prescription.
All we can say is that this transplant technique has a relatively higher success rate as compared to other products and techniques.
However, the transplanted hair is not like your natural ones so it may recede over a period and you may require a follow-up transplant.
Transplant is not effective for widespread baldness or hair loss in a cancer patient as a result of chemotherapy or due to medications or drug toxicity.
Precautions
FUE transplant is a time-consuming and care-demanding procedure. After it, the scalp may be tender or swollen so you would have to take some precautionary measures for a few days. You would be prescribed some pain medications (analgesics) by your surgeon according to the need. The surgeon may also prescribe antibiotics to avoid infection and anti-inflammatory drugs (NSAIDs) to counter the swelling at the transplanted site.
Here we list some after-care or postoperative tips that will ensure quick and well healing of the incision site:
Don't wash your head for a few days after transplantation. Washing your scalp vigorously can hurt the newly implanted follicles and too much scrubbing can dislodge a graft. So be very gentle. You may start washing them normally no sooner than about 14 days. However, you can start gentle shampooing of the target site four days after the procedure i.e. you may touch your graft gently and slide your fingers along a vertical plane but don't rub on them sideways or in a circular motion. Make sure not to massage the area.

Use mild shampoos for the first few days.

Avoid exercise for a few weeks after transplantation. Sweating can make the scalp sensitive and can cause bacterial infestations or irritation. Bacteria can cause infection at the surgical site.

Be regular in your follow-ups so that your surgeon can ensure the good healing of the site.

Avoid combing at the surgical site. If doing so be very careful. It may pluck the transplanted roots.

Ask your transplant surgeon for his advice on "precautionary measures after transplantation", definitely those would be more beneficial than ours.

In case of any irritation, infection or emergency, seek medical help on time. Remember our fate is in "nipping the evil in the bud" (seeking medical help at the very first stage can save you from bigger problems).
Side effects or Complications
It is safe but still, you may experience a few postoperative problems like:
Scarring

Pain at the surgical site

Infections (if precautions are not considered).

Itching or swelling; swelling is a common side effect, itching may be due to sweat, infection, etc.

Bleeding (if the graft is dislodged, vigorous massaging or combing may also cause it).

Bumps around the follicles.
Side effects can easily be treated via medications.
Hair loss statistics and looking FUE transplant as a remedy
Approximately 35 million men and 21 million women suffer from hair loss. In men we find its rate to be 40% by the age of 35 and rate increases to 70% by the age of 80 and women suffer from 80% loss by the age of 60. This great ratio shows that it is a worldwide problem and people need professional services and medical techniques to combat it. Thus people look forward to medications as well as herbal treatments for their problems and many of them prefer long term treatments like transplants which can be seen as the need of time as it is an efficient way to get back your "young and healthy-hair look" which is the demand of every age group nowadays.
Frequently Asked Questions
Which clinic is performing mega sessions of Fue hair transplants in Lahore?
We are the best and performing exclusively follicular unit extraction for the last many years.
What is the price of mega sessions of Fue hair transplants in Lahore?
An average mega session price is 125,000 to 200,000 Pak Rupees in a reputed clinic.
Who is performing the best Fue hair transplants in Lahore?
Dr. Ahmad Chaudhry is performing the best follicular unit extraction procedure in Lahore. To get an appointment you may call or WhatsApp.
"Fue hair transplants in Lahore Pakistan are performed under the supervision of a Board Certified hair restoration surgeon Dr. Ahmad Chaudhry. He is an experienced and foreign qualified surgeon with more than 23 years experience in this field. If you are looking for the best Fue hair transplants in Lahore Pakistan then our clinic is the number # 1 choice with affordable cost"

For free checkup | Write us or WhatsApp | +923334309999